KENYA, TANZANIA and THE GREAT MIGRATION
The Best of African Wildlife, Tribal Cultures, Stunning Landscapes and The Great Migration
Neither Kenya's Maasai Mara nor Tanzania's Serengeti require an introduction, being two of the best-known wildlife reserves in the world and on every serious photographer's Bucket List. Both are part of the Mara-Serengeti ecosystem, which covers some 25,000 km2 (9,700 sq mi) in Tanzania and Kenya, and share the spectacular annual migration crossing the croc-infested Mara River dividing the two countries. The Great Migration involves some 1,300,000 wildebeest, 500,000 Thomson's gazelles, 97,000 Topi, 18,000 elands, and 200,000 zebras. Following the migration are the predators, and both the Mara and the Serengeti are globally famous for their exceptional population of lions, leopards and cheetahs. On this safari you'll have the opportunity to experience highlights unique to each country and the migration from both sides of the Mara River.
Visit the world's most successful orphan elephant and rhino rescue and rehabilitation program operated by the David Sheldrick Wildlife Trust.
Photograph Amboseli's endemic big-tusked elephants against the backdrop of Mount Kilimanjaro
'Get in the Pink' at Lake Nakuru with the world's largest concentration of flamingoes and the best place to see rhinos
Discover the Big Five in Kenya's Masai Mara National Reserve
Thrill to the spectacle of the Great Migration - two very different perspectives as seen from both the Kenya and Tanzania sides - as 1-1/2 million wildebeest defy death-by-drowning and predation while following greener pastures
Go off-road game driving in Ndutu, a part of the Ngorongoro Conservation Area and birthing ground to the wildebest migration herd
Traverse the Ngorongoro Crater basin, the world's largest intact volcanic caldera, with its unique ecosystem, home to 26,000+ animals, including the densest concentration of lions in the world
Go hunting with the Hadzabe Bushmen, the last of the hunters-and-gatherers; visit a Maasai village, and admire the jewelry and blacksmith art of the Datoga tribe
Absorb the knowledge of enthusiastic guides and expert naturalists
Experience the thrill of photographing animals in their natural habitat
Travel with a small group of like-minded photographers and an acclaimed professional wildlife photographer who is there to help you expand and hone your photographic skills
Soar across the roof of the world with an optional balloon safari over the Serengeti and the migration
Savor the sumptuous food especially prepared for your palette from natural ingredients and local flavors whether sitting by the campfire or overlooking the pool
Maximum Comfort and Mobility
Whether on the ground or in the air, our safaris are equipped to quickly and skillfully position photographers in the best vantage points to capture their dream shots both creatively and safely.
Our group of 10 photographers and two photo guides travel in the comfort of four custom-designed 7-seater Landcruisers, three photographers to a vehicle. Each photographer has a row of well-padded seats for themselves and their camera gear, with extra large windows either side and a pop-top roof above.
Each safari vehicle has an expert local guide/naturalist with the photographer/trainers alternating between vehicles. All vehicles have a refrigerator stocked with an unlimited supply of bottled water, soft drinks and snacks.
Once again we're offering the option of a hot air balloon safari over the Serengeti with a bird's-eye-view of the Great Migration from a unique perspective.
(with links to Accommodation)
TANZANIA
September 17, 2020
Full day in Ngorongoro Crater
GIBBS FARM
September 18, 2020
Hadzabe and Datoga tribes at Lake Eyasi; free afternoon
GIBBS FARM
September 19, 2020
OPTIONS: Rest Day at Gibbs; Day safari in Tarengire NP; Art gallery and shopping in Arusha. Late afternoon transfer to Kilimanjaro International Airport (JRO)
Rick Collins and Ron Niebrugge are friends and fellow photographers who share the same enthusiasm for adventure and wildlife photography. They met when Rick guided Ron's photo groups for grizzly bears in remote Alaska over a period of several years and have remained friends ever since. They are teaming together for this epic 17-day African safari and look forward to sharing this unique wildlife experience, their enthusiasm and combined photography skills with a group of like-minded photographers.
"Thoroughly enjoyed every day and very much appreciate your faultless efforts. Best trip ever!"

Wow! Amazing. Thanks, Rick, for your patience and expertise and guidance. Your trips are constantly great!"
"Endless energy, positive attitude, sense of humor, patience, spirit of adventure and your leadership made this trip perfect for all."

"Your energy is delightful and radiates to the group."
The Maasai Mara National Reserve covers some 1,510 km2 (580 sq mi) in south-western Kenya and is known as one of the finest wildlife destinations in the world. There is an excellent chance of seeing the Big 5 (Maasai Lion, African Leopard, African Bush Elephant, Eastern Black Rhino, Cape Buffalo), cheetah, serval, hyena, bat-eared foxes, black-backed and side-striped jackals, hippo, crocodile, baboons, warthog, topi, eland, Thompson's gazelle, Grant's gazelle, impala, waterbuck, oribi, reed-buck, and zebra.
More than 470 species of birds have been identified in the park, many of which are migrants, with almost 60 species being raptors. Birds that call this area home for at least part of the year include: vultures, marabou storks, secretary birds, hornbills, crowned cranes, ostriches, long-crested eagles, African pygmy-falcons and the lilac-breasted roller, which is the national bird of Kenya.
After the Maasai Mara, the Amboseli is the second most visited park in Kenya. It's one of the best wildlife viewing experiences in the world with over 400 species of birds (including 47 types of raptor). It's considered the best place in the world to get close to free-ranging elephants. And with Mount Kilimanjaro as a backdrop, what more could a photographer want?!
Established as a national park in 1951, the Serengeti is Tanzania's oldest park, a World Heritage site and was recently proclaimed a 7th Wonder of the World and one of the 10 Natural Travel Wonders in the World. It encompasses 5,700 sq miles (14,763 sq km), stretching north to Kenya, and borders Lake Victoria to the west. The Serengeti is also renowned for its large lion population and is one of the best places to observe prides in their natural environment.
The park has a healthy stock of other resident wildlife – in particular, the Big Five. Approximately 70 large mammal and 500 bird species are found here. This high diversity is a function of diverse habitats, including riverine forests, swamps, kopjes, grasslands, and woodlands. Blue wildebeests, gazelles, and zebras are some of the commonly found large mammals in the region.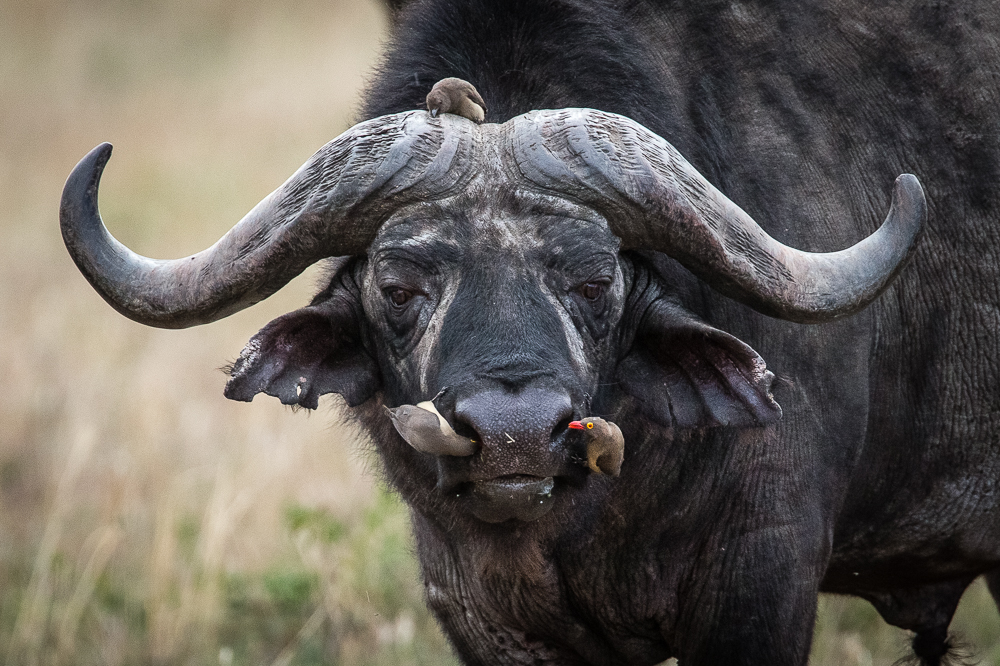 The roughly 100 square mile (260 sq km ) Ngorongoro Crater basin is home to an estimated 26,000 mammals and provides us with the best opportunity of seeing one of the crater's 26 Black Rhino. In addition there are elephants, wildebeests, zebras, eland, both Grant and Thomson gazelles, reedbuck, Cape buffalo, spotted hyenas, jackals, wild dogs, cheetahs and the densest known population of lions.
The Great Migration is on every passionate photographer's Bucket List. The sheer magnitude and excitement of this spectacle, as 1-1/2 million wildebeest, zebras and gazelles plow through the crocodile-infested Mara River in search of greener pastures, is not only visually overwhelming but a photographer's feast. Prepare for five days on the Mara at the peak time for crossing, ensuring our group the best chances of multiple crossings and maximum photo opportunities.
TRIBAL CULTURES
Maasai, Hadzabe, Datoga
As we have four safari vehicles at our disposal, you have a choice on how you'd like to spend your last day. We will have the farewell dinner on our last night at Gibbs Farm and those wanting a day safari in Tarengire National Park will leave with a picnic lunch early the following morning for the park. You'll be responsible for park and guide fees. For those wishing to relax prior to their long flight home, you'll have the morning to sleep-in or relax over a leisurely cup of freshly roasted coffee and have the option to partake in farm activities…or not. And for those wishing to explore local arts and crafts, you'll depart after breakfast directly to Arusha. Plans will be finalized once we have your flight schedules.
TARANGIRE
Day Safari
TARANGIRE is the sixth largest park in Tanzania. It is home to the largest herds of elephants in the country and over 550 varieties of birds - the most bird species found in a single habitat anywhere in the world.


FARM REST
Various Farm Activities
GIBBS FARM is unique amongst African guesthouses. A former coffee plantation, it is almost totally self-sustaining - from its handmade cottage furniture to the freshly roasted coffee beans to its gourmet dining with 90% of the produce and meats grown on the farm. Enjoy the various farm activities or do nothing!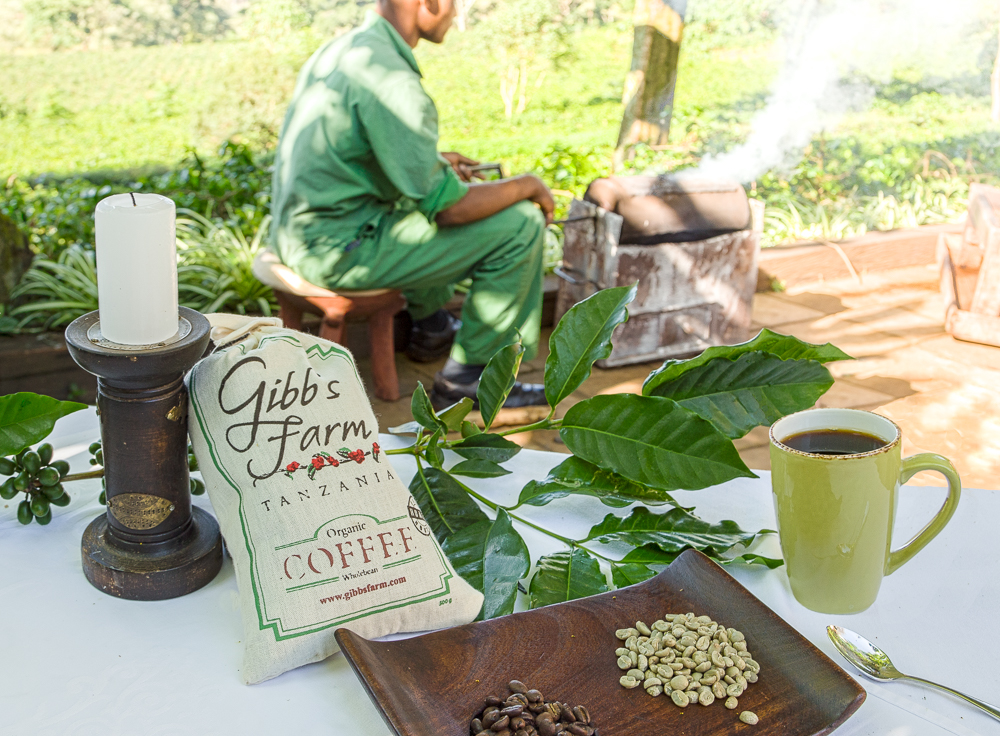 ARUSHA
Art Gallery & Shopping
ARUSHA contains Africa's largest art gallery and cultural center, supplying local crafts and souvenirs to many of the country's tourist shops. It is also the best place to buy Tanzanite - a mineral unique to Tanzania and popular with jewellers.


INCLUSIONS, EXCLUSIONS & COST
WHAT'S INCLUDED
All Accommodation

Full Board (all meals)

Open Bar (Well drinks, house beer and wine)

All Transport and Transfers

Photography Training

Guides

Park Fees

Taxes

Gratuities
WHAT'S NOT INCLUDED
Visas

Relevant inoculations and medications

Flights between guests' domicile and Kilimanjaro International Airport (JRO)

Optional Balloon Safari

Travel and health insurance (Required)

Spending money for souvenirs, personal items and incidentals
17 DAYS | 16 NIGHTS
All-Inclusive $12,500pp
SPOTLIGHT PHOTO SAFARIS are open to all levels of photography, and advice and instruction will be individualized to fit the requirements and requests of each photographer
Safari transport is four elongated 7-passenger, custom-fitted Land Cruisers. The group size is limited to 10 photographers and two photo leaders, three photographers to a vehicle, one to a row of seats, providing each photographer with ample space for themselves and their gear, with a supersized opening window either side and the pop-top roof above. Bean bags are provided for camera stabilization.
All of our accommodations are carefully selected, not only for their rating of excellence and their safe environment, but for their location in regards to the migration and the other wild game. On some of the safaris we are opting for tented camps – some permanent, some mobile – as these offer us the greatest chance of being in the right place at the right time.
The safaris are all-inclusive (including transfers, internal flights, ground transport, guide, driver, accommodation, all meals, well drinks, house beer and wine, all park fees, taxes, gratuities and in-field photo instruction). Not included are the flights between guests' domicile and Nairobi (NBO) and Kilimanjaro airports (JRO), the optional balloon safari, and spending money for souvenirs, personal items and incidentals.
ALL PRICES QUOTED ARE BASED ON TEN PARTICIPANTS AND DOUBLE-OCCUPANCY. FEWER THAN TEN PARTICIPANTS WILL NECESSITATE A PER PERSON INCREASE IN PRICE. SINGLE SUPPLEMENTS ARE SUBJECT TO AVAILABILITY.
PRICING IS GUARANTEED AS DESCRIBED AT THE TIME OF PUBLICATION. PRICE FLUCTUATION CANNOT BE CONTROLLED SPECIFIC TO PARK FEES AND INTERNAL FLIGHTS. ANY DIFFERENCE IN TERMS, IN THE UNLIKELIHOOD THEY SHOULD OCCUR, WILL BE PASSED THROUGH TO THE CLIENT.
Safari Njema! (Have a good safari!)